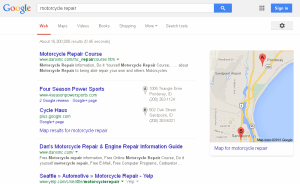 ¶ If you would like to advertise on the Dansmc web site you can! I am usually on the first page on Google with the search term "Motorcycle Repair". A short sentence with a link is $150.00 for one year. A 468x60 banner ad costs $200.00 for one year. You get to pick the page. The place on the page is first come first served. If no one is in the spot you want, you get it.
If you don't have a banner, you can make one, like the banner above, for free here
You will need to your sentance or banner ad, a URL to link to and decide which page you want your ad to appear on. To make sure you get through my spam filters be sure to put MC1 and nothing else in the subject line of your e-mail.
You can pay with the PayPal link below.


Thank you for advertising on Dansmc.com!
Back to M/C Repair Course
Copyright © 1999-2015 Dansmc.com